Thank you for taking the time to learn more about me.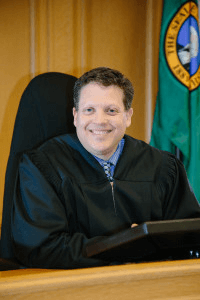 I was appointed to the King County Superior Court by the Governor at the beginning of this year and have had the pleasure of serving the people of King County since that time. My parents taught me the value of public service and it is my greatest honor to serve as a Judge.
The court system is the place where laws meet reality. The impact of that meeting is often rough, ugly, and raw. The courts require strong judges who are unafraid to look at the situations before them creatively and thoughtfully. It requires judges who are experienced enough to look for justice while understanding the consequences.

I joined the bench after spending nearly twenty years helping people find justice – first as a King County Prosecuting Attorney and then as a United States Attorney. I was rated exceptionally well qualified by all but one bar association that rated me. I am a careful listener. I care deeply about people who find themselves facing the difficult task of navigating the court system, and I have a deeply rooted sense of justice, born of parents who demanded that their children think for themselves, engage in public service, and find their way in the world.
I hope you'll take some time to learn more about me and why I should continue to serve the people of King County.

Sincerely,
Judge Roger Rogoff